Antes de nada: si quieres la información de la página en castellano da clic aquí. Si ho vols llegir en català, fes-ho aquí.
Tired of using the broom? Does your back hurt from bending over so much? Do you need a vertical vacuum cleaner with the most modern features?
The end of your problems you will find on this page. In one machine!
But if I tell you that the machine I am talking about has 3 devices you think: I want to know more; true?. I tell you:at STARVV we have on the one hand a vacuum cleaner for all types of floors; a handheld vacuum cleaner for surfaces such as the sofa and, for finish, we find a wet cleaning system.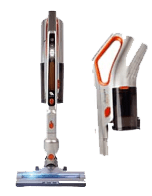 Besides saving time and quality, with the broom we can leave something to clean and it takes longer. All this is something that does not happen with STARVV, its assembly and use is simple. You clean much faster than when you are sweeping and it will not cost you to put it one way to another (either for hand surface or for wet.
We take care of our health since when we sweep we raise dust. With your new STARVV vertical vacuum cleaner nothing stands up, we vacuum and remove everything we want
Te está esperando al otro lado del teléfono o rellenando un simple formulario.